CARROT 4.0
With her upgrade to 4.0, CARROT is now the first and only to-do list that gives you a kitten as reward for getting stuff done in real life. You can pet him, dress him in premium costumes, and even feed him to earn bonus points! Just remember: your kitten's well-being depends entirely on your ability to keep me happy.
The update also features the new Shop N Slack store, stocked with the finest cheats and customization upgrades this side of Antartica, plus 30 challenges, 12 new unlockables, and over 100 new randomized rewards.
This is CARROT's biggest update yet!
CARROT 4.0 trailer, 16:9 ratio.
About CARROT
CARROT is the first to-do list app with a personality. You keep her happy by getting things done in real life. She'll reward you. But be careful! Slackers make CARROT upset. You do not want to make her upset.
Featuring a gorgeously minimalist interface and a revolutionary gamification system, built around character and story instead of meaningless badges and achievements, CARROT doesn't just make getting things done fun – she makes getting things done addictive.
Launch trailer, 16:9 ratio.
CARROT is on sale now for $1.99. She is available for iPhone 3GS+ and requires iOS 6.
Everybody loves CARROT
"CARROT is adorable. I have a huge grin on my face from using her." - Louie Mantia, Pacific Helm
"CARROT breathes new life into to-do lists." - Lewis Painter, The Strand
"If you want an extra kick in the [pants] from a sadistic robot, you'll want to give CARROT a shot." - Adam Dachis, LifeHacker
"01000001 00101011 00101011 00101011" - Deep Blue, Supercomputer
Critics, designers, hipsters, and supercomputers the world over have fallen in love with CARROT and her twisted personality. What are you waiting for, an engraved invitation?
Promo images & screenshots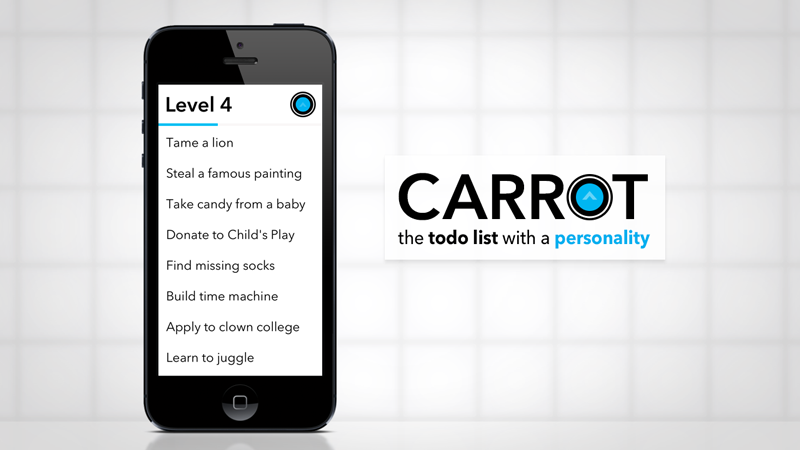 Contact information
CARROT was lovingly crafted by Brian Mueller.
For press inquiries, please email press@meetCARROT.com or get in touch with CARROT directly on Twitter via @CARROT_app.